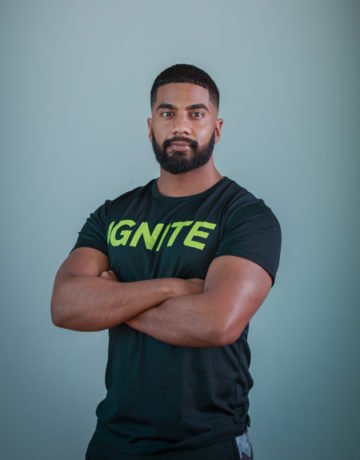 Keegan Oberender
Personal Trainer
Biography:
Why I Love My Job
Fitness has been the one constant in my life, and the background knowledge I have acquired in health care, comes from my extensive practice of martial arts and bodybuilding back in Johannesburg. For as long as I can remember, I've been an athlete.
Back home in Johannesburg, I've competed as a kickboxer during my adolescent years and as a bodybuilder during my early 20s. The level of discipline I've learnt from the above mentioned sports has infiltrated other parts of my life and as clients have told me, training with me has been comprehensive in other faculties of their lives as well. It has assisted my clients in dealing with the stresses of a modern lifestyle.
Of course this brings much joy to me but the only joy greater is experiencing the development of my clients before me, whether it be physical, mental or spiritual growth. That is only the tip of the ice berg as it encapsulates the great client-trainer bond we've developed. I pour my soul into everything I do and when I see the same dedication in return… it is heart warming to say the least.
Qualifications
Diploma in Exercise Science HFPA
-REPS certified level 3 Trainer
-2016 IFBB Boksburg Classic Bodybuilding competitor
-2007 SKR black belt acquired
-2006 SKR grand champion
-2005 SAKA Gauteng provincial kickboxing competitor
-2005 South African kickboxing championships competitor
Specializations
I've used my knowledge to help people by means of postural realignment, stress contro and improvement of self esteem. I've assisted people in becoming more efficient human beings by increasing muscle mass, dropping body fat and releasing tension within the body tissues.
I've used aesthetic training to allow my clients to wear the clothing of their choice.
In turn we learn from each other. I get the opportunity to teach my athletic South African culture and you get to teach me about your role in this world. Why wouldn't I be passionate about what I do?
I don't expect a seat without bringing something of value to the table.