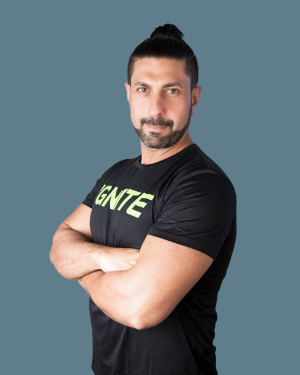 Tareq Alfanek
Club Manager
Biography:
Tareq has over 16 years of experience in the health, wellness and fitness industry. He worked with and consulted for renowned organizations in the industry, namely Canada, UAE and GCC.
Tareq started off his career as in the health and fitness industry a certified personal trainer and nutrition specialist. He worked with hundreds of individuals and groups of varying ages and physical ability levels since then, including special populations and those suffering from various non-communicable diseases.
Tareq's career evolved to managing and mentoring teams of health, wellness and fitness professionals with a goal to help people live happier, healthier and better lives. Moreover, Tareq has 8 years of corporate health and wellness program creation, management and planning.
" Live life to the fullest and realize that there is no better investment than that made unto oneself" – Tareq Alfanek
Bachelor of Science – Biochemistry & Life Sciences, Minor in Human Psychology
McMaster University, Hamilton, ON, Canada
Bachelor of Applied Science – Nutrition & Food Management, Minor in Exercise Physiology and Advanced Nutrition for Athletes
Ryerson University, Toronto, ON, Canada
CAN-FIT-PRO Canadian Fitness Professionals Personal Training & Nutrition Specialist
CYQ Level 3 Personal Training & Nutrition for Active Lifestyle