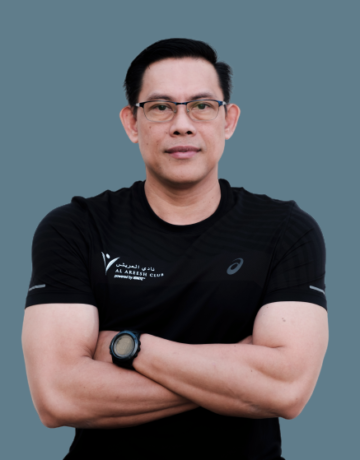 Noel Rabaja
Personal Trainer
Biography:
Noel is lively, upbeat, and highly motivational. He has a vast experience in Personal Training and Group Exercise Presenting and has been practicing as Fitness Professional for over 21 years now. He is a person who has a "can do" attitude in life with a straightforward and goal oriented approach in training.
Qualifications:
Level 3 Personal Training
Register of Exercise Professionals UAE (REPs)
Active IQ Nutrition for Sports and Exercise Performance
VIPR, Boxing, TRX, Power Lifting
XLR8 Bronze Power, Speed & Agility
Planning & Instructing Circuit Training
Bosu, Foam Roller, Core Board
Pre and Post Natal
Body Jam, Stretching & Flexibility
PBBA – Advanced Body Building Diet, Training & Supplementation
First Aid Certified

Specialization:
Fitness is not about being better than someone else, but it is about being better than what you used to be! I specialize in Personal Training, Special Population, Kids 8+, Professional Athletes, Before-and-After Pregnancy, Functional Floor Exercises, HIIT, CrossFit Workout, Circuit Training, Boxing, and Core Exercises.